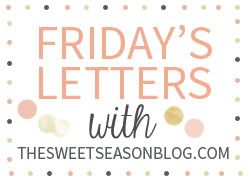 Dear Hubbby,
Thank you for the flowers yesterday! Totally unexpected, since you haven;t gotten me flowers since I was pregnant, LOL. And for ordering dinner and putting the munchkin to bed!
Dear Munckin,
I seriously love you. You are everything I ever wanted in a little girl. You need to start getting on schedule with sleeping though, k?
Dear Self,
Today is the first day of a journey to a new you! Within the month you will hopefully drop 10-20 lbs and fit into those jeans you miss every day LOL. Oh and you need to find time to put laundry away!
Dear Grace Adele,
I LOVE My new purse, and love is an understatement. She's so pretty!
Dear work,
I am so over this week. And so over everything being broken and people being super nasty.
Dear Family,
I love you <3