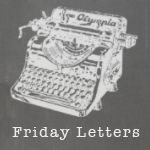 Dear Friday- it took you long enough to get here. Let's not make the same mistake next week.
Dear painters at work- Painting with an office full of people= a no go. I have had a headache every day this week.
Dear hubby- you need to take my car to work. This $120 in gas a week thing is getting old. Plus the weather is decent and you don't need an AWD vehicle at the moment.
Dear WalMart- While I hate you, I do love that I was able to find a ton of Monsters Inc. stuff for Hailey this afternoon. Please get more!
Dear Nails- Why you break? You were all growing so nicely! It makes me sad.
Dear Hailey- You make me smile. You are the best little person in the world, and I am so happy you are mine. Thank you for starting to go to bed earlier, and without a fight. And letting mommy sleep. I love you.
Dear Weather- Please get warmer. I'm not diggin this cold stuff.
Dear work- Please put the heat on. I should not have to wear Hello Kitty slippers at my desk to stay warm.
Dear Blogger- Thank you for accepting my absence this past week in the blogging world. I promise to try harder.
Dear Flu- Stay away from my family. K? Thanks.
Dear Weekend- Please don't go by so fast. Okay? I would like to enjoy these two wonderful days, at home, in my PJ's.
Dear lady who wants my elliptical and clients who want photos- Please don't back out on me. Mama wants an iPad, lol.
Dear Taxes- Please give us a good refund this year!