To say my daughter was pleasant this weekend, is an exaggeration. Last night, Daddy managed to wake her up from bed time at 11pm, which resulted in endless screaming until 3am. Needless to say, mommy is exhausted. So MIL is watching Hailey today, while I slept in until noon (amazing, btw. I haven't done that in over a year!). So here I am feeling well rested, and eating my left overs from last night's dinner. And all I can say is YUM!
Of course, this one comes from Pinterest! But it is courtesy of SouthernPlate.com
Crock Pot Cheesy Chicken and Rice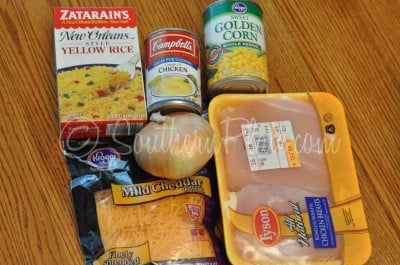 You'll need: Yellow Rice*, Cream of Chicken, Whole kernel corn, onion, chicken breasts, and shredded cheddar cheese (I use a cheddar mix of extra sharp and mild since I recently feel in love with extra sharp white cheddar).
Place your chicken breasts in the bottom of your slow cooker. Chop up onion and toss on the top.
Spoon or glob your cream soup over that.
Now cover this and cook it according to the following:
Low – 7-8 hours
High 3-4 hours.
When it is done cooking, drain your corn and toss that in along with your cooked rice and cheddar.
You'll need to cook your rice before this step. What I like to do is cook my rice the night before and just stick it in the fridge. Then you can dump it in and stir it up and give it a minute or two to get heated. You can also cook your rice soon as you get home, though
Enjoy!